Homemade Cleaning Products
Senior Care in Springfield VA
Helping your senior take care of his home and keep it fresh, clean, and healthy is an important part of your elderly care efforts for him, but many of the cleaning products today are filled with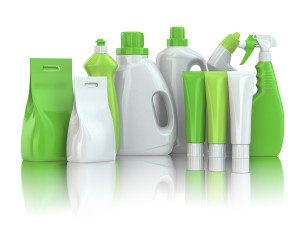 harsh chemicals, artificial colors, and overpowering fragrances that can make your senior feel sick. You should not have to feel like you need a full-body protection suit in order to clean the home. Cleaning the home, especially when it is the home of a senior who has thinner, more vulnerable skin and more sensitive sinuses, should create a fresh, healthy environment where your senior can relax.
Making your own homemade cleaning products together is a fantastic way for your senior to get more involved in his housecleaning and for you to make sure that his home is as clean as you want it to be without introducing potentially harmful chemicals onto the surfaces that she touches on a regular basis, or into the environment after washing the used cleaner down the drain or tossing it outside.
With just a few ingredients that you likely already have around the house, or that you could access easily at your local grocery store, you can put together cleaners that are highly effective, but also safe.
Glass Cleaner
What You Will Need
1 to 2 drops of essential oil in your favorite scent. Tea tree oil is a popular scent for cleaners because of the strong, clean, medicinal scent
1/4 of a cup of rubbing alcohol
1/2 of a cup of white or cider vinegar
2 cups of water
A spray bottle
A paper towel
What to Do
Combine the alcohol and vinegar into the bottle
Add the water to dilute
Add the essential oil to give it the fragrance you desire
Close the top and shake vigorously, but making sure to not spill
Spray onto the paper towel and then wipe onto the glass, following with a dry section to remove any drips. The vinegar and alcohol both evaporate quickly, leaving the glass clean, shining, and without streaks
Brass Cleaner
What You Will Need
White vinegar or lemon juice
Table salt
A sponge
Water
A clean soft cloth
What to Do
Dampen the sponge with the vinegar or lemon juice
Sprinkle the salt over the top of the sponge
Lightly rub the sponge over the surface
Rinse the sponge thoroughly with water
Immediately dry with a clean soft cloth
When All Else Fails Clothing Stain Remover
What You Will Need
1 gallon of hot water
1 cup of regular liquid chlorine bleach (not concentrate or ultra)
1 cup of powdered dishwasher detergent
A stainless steel, enamel or plastic bowl (not aluminum)
What to Do
Pour the water into the bowl
Add the chlorine bleach to the hot water
Add the dishwasher detergent last and mix well
Soak the stained garment for 20 minutes
If the stain is still there after 20 minutes, so again for up to 10 more minutes
If the stain is gone, wash the garment as usual
Heavy Duty Scrub
What You Will Need
Half of a lemon
1/2 of a cup of borax
What to do
Dip the lemon into the borax
Scrub the surface with the lemon
Rinse the surface clean afterwards
If you or an aging loved one are considering senior care services in Springfield, VA, call the caring staff at Medical Professionals On Call today. 703-273-8818
Latest posts by Michelle DeFilippis
(see all)