The Top 5 Considerations When Deciding on a Home Care Agency for Mom
Home Care in McLean VA
Your mother has always been there for you when you needed her.  Now that she is getting older and needing more assistance around the house, it is your turn to be there for her.  However, with a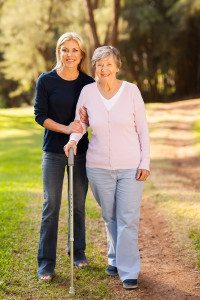 career, family, and responsibilities of your own, taking care of mom can be a challenge.  The right home care agency can be a great resource when it comes to giving mom all of the help she needs while still living in her home.  But, how do you choose one that is right for your family?  Read on for the top 5 considerations when deciding on a home care agency for mom.
1.   The Services They Provide.
When considering a specific agency, it is a great idea to give them a call and ask about the services they provide.  For example, you may want to ask if their home care aides are able to drive mom to the grocery store and doctor's appointments.  Will they help to prepare healthy meals for mom?  It is important to choose a home care agency that will be able to provide the services you and your mom need.
2.    Who They Have on Staff.
Does the staff include registered nurses, physical therapists, and other types of health care professionals?  And, is their staff experienced and knowledgeable?  Do they perform background checks?  These are essential questions to ask a potential home care agency before committing.
3.    Their Licensing.
Make sure any home care agency you're considering is licensed by the state.  This is one way to confirm that they are, in fact, a reputable agency.
4.    Their Willingness to Work with You.
If the agency develops a plan of care for their clients (often in writing), make sure that you, your mom, and your close family members can be involved in devising it.  A willingness to communicate with you and use your input is one quality of an excellent home care agency.
5.    Their Experience and Reputation.
Is the home care agency you're considering well-known in the community?  Are they a new or an established agency?  One way to tell if a home care agency provides quality services is if they are recommended to you by friends, neighbors, or other members of your community.
Remember, a great home care agency will make your mom's needs a top priority.  When selecting a home care agency, don't hesitate to ask all of the questions you and your mom have.  The list above is just a starting point, no question or concern is too small when considering a home care agency.
If you or an aging loved one are considering home care services in McLean, VA, call the caring staff at Medical Professionals On Call today. 703-273-8818
Source: http://assets.aarp.org/external_sites/caregiving/checklists/checklist_inHomeCare.html
Latest posts by Michelle DeFilippis
(see all)